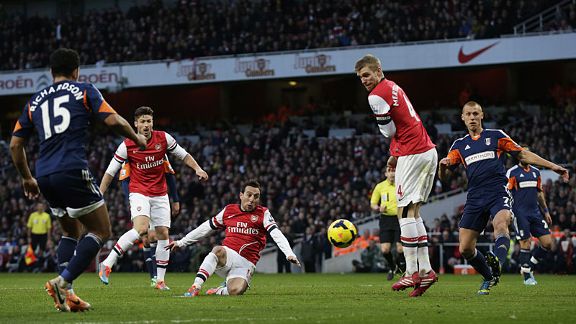 GettyImagesSanti Cazorla scores his first goal against Fulham.
As Manchester City continue to rack up the goals, Arsenal continue to rack up the points. Arsenal may have failed to produce their scintillating best against Fulham, but still emerged as 2-0 winners. City may top the goalscoring charts, but Arsenal fans won't care: the Gunners top the Premier League.

In the buildup to the match, Arsene Wenger spoke about the rich variety of midfield options at his disposal. Throughout the season, he has been able to rotate and cover for absentees without any discernible drop in quality. With that in mind, the likes of Tomas Rosicky, Alex Oxlade-Chamberlain or even Lukas Podolski might have imagined they would be handed an opportunity to start. However, Wenger made the surprising decision to stick with the same XI who faced Aston Villa earlier this week. Even Nacho Monreal was retained at left-back ahead of the fit-again Kieran Gibbs.

- Delaney: Three Things - Arsenal v Fulham

Wenger presumably decided there was no need to change a winning team. However, the victory at Villa was not entirely convincing, and unfortunately Wenger's team appeared to retain the lackadaisical manner that almost proved their undoing at Villa Park. Arsenal's first-half performance was a precise microcosm of the sloppy display the Gunners produced in the Midlands.

In the opening exchanges, Arsenal looked so superior that it seemed inevitable that they would win by a considerable margin. However, that dominance soon allowed the rot of complacency to set in. Simple passes began to go astray. Even when the ball did find its target, the sharpness of Arsenal's control was not present.

Mesut Ozil's performance typified a lacklustre first-half. His first touch is usually immaculate. However, in the first 45 minutes, he twice miscontrolled when under no obvious pressure.

It speaks volumes that Arsenal's most impressive performers in the opening half were the defensive trio of Mathieu Flamini, Laurent Koscielny and Wojciech Szczesny. They seemed to be showing the urgency that was so lacking in their attacking teammates.

Szczesny in particular had to be alert to make three crucial interventions: one flying save and two darting interceptions. Were it not for his urgency and alertness, Arsenal could have gone in at half-time trailing.

Perhaps Wenger had some stern words in the dressing room. As soon as Arsenal emerged for the second half, there was a newfound directness in their play. Only a series of goal-line clearances prevented Arsenal nudging ahead, as Bacary Sagna, Laurent Koscielny and Serge Gnabry were denied in quick succession.

When the breakthrough eventually came, it was Santi Cazorla who got the goal. The Spaniard instigated a neat move that ended with Jack Wilshere cutting the ball back toward the penalty spot. Cazorla duly arrived to side-foot calmly into the corner with his right foot.

Within five minutes, Cazorla had sealed the win with a second. This time, he demonstrated his ambidextrous gifts, firing a low shot in to the bottom corner with his supposedly weaker left foot. Few players in the Premier League share Cazorla's ability to strike the ball so well on either side.

Last season, Cazorla was voted Arsenal's Player of the Year by a considerable majority. However, in 2013-14, he has been somewhat overshadowed by the likes of Ozil and Aaron Ramsey. This brilliant brace suggests that the Spaniard might be coming in to form as Arsenal gear up for the crucial half of their title challenge.

From the moment Cazorla's second strike hit the net, the game was effectively won. The latter stages were enlivened by an electric cameo from Lukas Podolski. Podolski has struggled for game time in recent weeks, and was spotted shaking his head in frustration after being overlooked as a sub at Villa Park. This time, his reaction was precisely the opposite. When the German was eventually called from the touchline to come on as a substitute, he turned to the Arsenal fans and pumped his fist in delight.

However, his impact was not confined to cheerleading. Within moments of entering the field, a goal-bound effort was blocked by a last-ditch sliding tackle. Shortly afterwards, a venomous strike from range was turned onto the post. Podolski did not get the goal he craved, but he made his point emphatically.

A year or so ago, it would have seemed unthinkable that Manchester City would be considered the league's great entertainers, and Arsenal the model of consistency. Nevertheless, it's turning out that way. If the Gunners can continue their relentless form, City's beguiling attacking play may yet prove to be in vain.