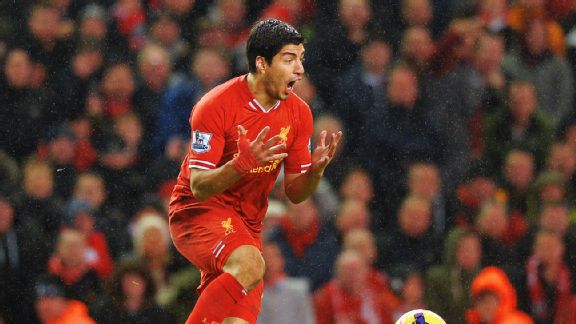 Paul Ellis/AFP/Getty ImagesLuis Suarez wasn't able to get on the scoresheet vs. Aston Villa on Saturday.
LIVERPOOL -- It is a concept their watching owner ought to find easy to understand. Liverpool are a team of two halves.

John W. Henry comes from a sport in baseball where the division between offence and defence is clearer than it usually is in football. Not at Liverpool, however. Even if the nuances of the beautiful game are lost on a businessman with a greater grounding as the owner of the Boston Red Sox, it should be obvious his other sporting investment are terrific going forward and threaten to be terrible at the back.

The 2-2 draw against Aston Villa was an evening to illustrate both aspects of a schizophrenic side. Even with Luis Suarez drawing a rare blank and thus failing to equal a club record of scoring in eight successive games at Anfield, their potency in attack was apparent. Daniel Sturridge's comeback has only spanned 110 minutes and has already yielded two goals. Steven Gerrard's equaliser from the penalty spot was the product of Suarez's elusiveness and, some felt, his cunning.

Only Manchester City have outscored Brendan Rodgers' adventurers, yet they may have the weakest back four in the top eight. It is not merely the fact they have conceded five goals in back-to-back games against mid-table teams, or the reality that it could have been more. It is the manner of the defending that is so damning.

"We were disappointed with the goals," Rodgers said after the match. That ought to be an understatement.

He has changed his tune and is beginning to tout his team as potential champions. It would be a triumph out of keeping with their history. Most of Liverpool's 18 title-winning sides built from the back. This is propelled forwards by the front men, but they cannot always compensate for the chaos behind them.

Liverpool have become accustomed to being tormented by target men over the past 18 months and, with Christian Benteke suddenly revitalised, they were buffeted by the Belgian. They were also outpaced by his speedy sidekick, Gabriel Agbonlahor.

"Unplayable," said the Villa manager Paul Lambert, who deemed Benteke "back to his best." Any time Kolo Toure or Martin Skrtel was isolated against either forward, Anfield was anxious. Yet if none of Rodgers' rearguard acquitted themselves well, the culprit in chief was Aly Cissokho.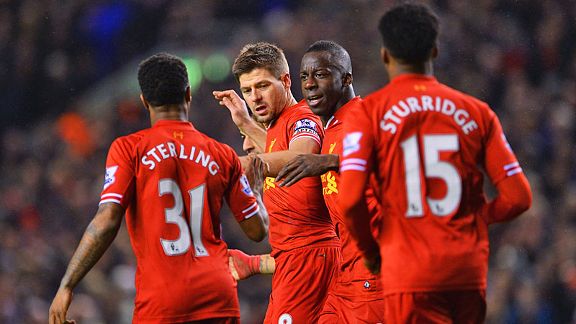 AllsportLiverpool continue to score easily but their defensive issues could hold them back from their lofty ambitions.
A gruesome display was summed up by a shot that was skewed into the upper tier of the Anfield Road End, to the obvious irritation of Suarez, who had found him.

Nor were his predecessors any happier: a former Liverpool player stalked away afterwards saying "it's official; he's the worst left-back we've had," and, if there is considerable competition in recent years for that unwanted tag, the Frenchman's failings were a reason Rodgers altered his tactics after half an hour.

"Tactically we had to change it," the Liverpool manager said. "We went to a [back] three."

Raheem Sterling then spent 10 minutes as a wing-back; it was long enough for him to be in the wrong position when Benteke scored, though he was not the prime offender.

Goalkeeper Simon Mignolet has had a dreadful month; after mistakes against Manchester City, Chelsea and Stoke, another led to Villa's second goal, when he limply pushed Agbonlahor's cross into Benteke's path. The opener, when the Englishman accelerated away from Toure and centred for Andreas Weimann to score, showed their susceptibility to pace.

It was apparent elsewhere too. Steven Gerrard, supposedly being reinvented as the Anfield Andrea Pirlo, was given a taste of his own medicine as opponents surged past him at will when Villa counter-attacked.

"They put a lot of men around me in the first half," he acknowledged to reporters after the match. "Whenever I got the ball they swamped me and I admit it wasn't one of my better 45 minutes."

When Lucas Leiva was introduced at half-time, Gerrard, whose piercing pass to Suarez led to the disputed penalty, fared better with a natural holding player affording him protection. Undistinguished as his form has been, it is a feature of recent seasons that Liverpool's record is much worse without Lucas; it deteriorated dramatically in the 2011-12 season after his November injury, while Rodgers' slow start was partly attributable to the Brazilian's absence for much of the first third of his debut campaign.

While the substitute was then substituted, limping off after a clash of knees, Liverpool didn't give themselves a platform to play until he came on.

"We had to change it," Rodgers admitted. "We had to get another body behind the ball."

Lucas had been sacrificed because of Rodgers' commitment to attack. His logic appeared irresistible. In a city indelibly associated with the 'Fab Four' of the Beatles, he unleashed an awesome foursome of his own by starting with Suarez, Sturridge, Sterling and Philippe Coutinho. Yet, Liverpool were overloaded with attackers until one Brazilian replaced another, Lucas taking over for Coutinho.

"If you want to blame anyone, blame me," said Rodgers."I go with my gut feeling. I thought it was an offensive team."


It was, but though Liverpool scored in delightful fashion with Coutinho on the pitch -- Jordan Henderson's lovely flick allowing Sturridge to strike -- they were more coherent in his absence. It is about finding the appropriate balance between defence and attack, something a visitor in the directors' box no doubt noted.

Not Henry, however, but the watching Everton manager Roberto Martinez, whose side visit Anfield on Jan. 28 for the season's second Merseyside derby. The first ended 3-3. On this evidence, the sequel may have a similar scoreline.