Even though it was partly the lure of playing for his boyhood hero Pep Guardiola which drew him back to FC Barcelona, and despite knowing Tito Vilanova's coaching style inside out having been tutored by him at the age of 14, it's clear that Cesc Fabregas is playing his very best football under a coach new to the Camp Nou tradition -- Tata Martino.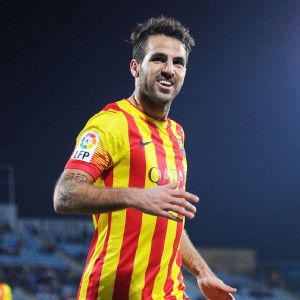 Denis Doyle/Getty ImagesCesc Fabregas has excelled at Barcelona this season. He says manager Tata Martino gives him confidence and makes him feel important to the team.
At the turn of La Liga's season the reigning champions still have to look behind them at every other team, have qualified for the Copa del Rey quarter final, and against Manchester City will provide the Champions League's most juicy tie on its resumption next month.
During all this, Fabregas has played throbbingly well. Eleven goals, thirteen goal assists, several different positions and, arguably, the same or more leadership than when he captained Arsenal.
At the launch of his new Puma evoPOWER Boot, Fabregas gave an exclusive interview to ESPN to explain what has fueled his rise and rise.
"In Tata Martino I've found a coach who is perhaps a little different from Tito and Pep and who loves to play a slightly different kind of football," Fabregas said.
"He likes my style of play and that helps me a lot, gives me confidence. Because it's a long time since I've started as many games, and also played for 90 minutes, as I've done in the last three months, I feel important to the team.
If you mention the word "change" around the Camp Nou, or even whisper "direct, 'English' style football" you'll be screamed down as a heretic.
All season there has been claim and counterclaim about whether Martino has taken a wrecking ball to the world-famous Barca football-credo or is just doing restoration work on football's Sistene Chapel.
Fabregas, as clear in his explanation as he is precise with his passing, easily puts things in context.
"Tata is a coach who wants debate, who is flexible and intelligent. You don't always get that in football," Fabregas said. "Rather than change, all he's asking is for us to restore some facets of what we had under Pep which, perhaps, have declined a little.
"His message is that there moments for everything in a game. Moments when you need to speed things up, a time when it's a bit crazy and you need to slow it down. The coach is asking us to have intelligence and a sense of timing in a match.
"At the beginning of the season we were winning a lot but the games were, perhaps, a little bit too crazy and end-to-end. That's what he's making us realize, to be smarter. To go fast when it's required, slow it down when that's the right choice."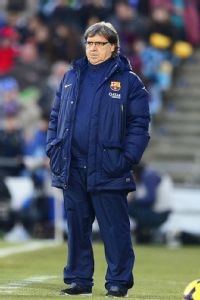 Javier Soriano/AFP/Getty ImagesTata Martino is making Barca smarter, Cesc Fabregas says, by telling the club, "to go fast when it's required, slow it down when that's the right choice."
When talking to Fabregas, the city of Manchester naturally finds its place on the agenda. Regarding Manchester United's persistent pursuit of him last summer, Fabregas said, "The past is the past and my future is at FC Barcelona where I'm very, very happy."
But there are two teams in that city, and the other is set to play Barcelona in the Champions League. With Neymar now likely to be fit for the away leg and Kun Aguero back in action, Europe's two most prolific goalscoring teams are within touching distance.
Fabregas won't hear of it.
"Okay, we are excited by the tie but there are still seven matches before that and we are doing very well by simply going game by game right now," he said. "We don't have to focus on anything which is non-priority. Right now the priorities are to do very well in La Liga, to reach the final of the Copa del Rey, and when the time comes we'll speak about City.
"Obviously it's in our minds that this is a big game which will come around in a month, but we must be professional and what professional people do is go day by day."
Like Xavi, a football-aholic, Fabregas will do some private preparation for the match at the Etihad -- from his sofa.
"I think I watch every single Premier League game on the television because I'm passionate about that league. "I had an amazing time there with Arsenal, who I still love to watch, but I also love watching Manchester City and Manchester United, too."
But back to priorities. Retaining the title. The wider world is loving the fact that, this season, La Liga is a three way slugfest. Fabregas rates the extra test, from a resurgent Atletico Madrid, as stimulating only so far as they are just a means to ratchet up existing pressure levels.
"We at Barca don't look at it as 'stimulating' or more interesting that there's a new challenge," Fabregas said. "We are just going to have to win every game like we've been forced to do in past years. You know how it is at Barcelona -- you always, always have to win, play your best ... you have to deliver.
"If you don't do that here then it makes no difference whether there are two, three or even four teams pressurising you at the top, the fans simply won't like it. Here, you must always be at the peak of your game.
"We are doing very well right now but La Liga is growing up. It's increasingly hard to win, especially away from home because other teams are getting stronger and that makes it more special for fans of La Liga."