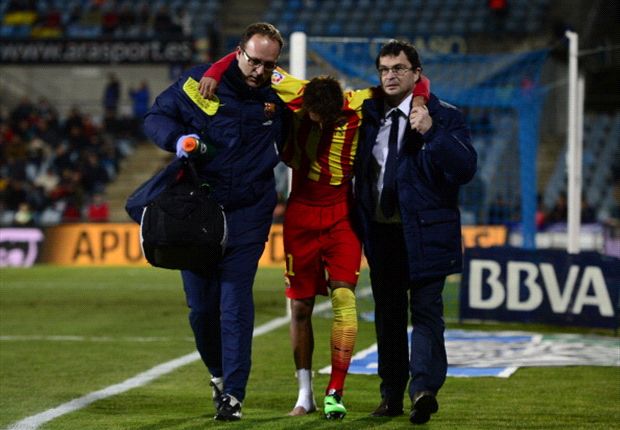 Barcelona boss Gerardo Martino has moved to calm concerns over an ankle injury suffered by Neymar in the 2-0 win over Getafe.

The Brazilian went over on his ankle in the first half and had to be replaced by Alexis Sanchez, with early speculation suggesting he could be a doubt for the Champions League meeting with Manchester City next month.

Martino, however, insists the forward is not facing a lengthy spell on the sidelines and was relaxed ahead of further medical checks on Friday.

"All the pictures of Neymar made us a lot more calm. Thank God it wasn't as serious as it could have been," Martino said after the match.

"He won't be playing for a while, but we're relaxed about it all. The player is fine.

"His father went into the dressing room to talk to him. It's not as serious as you might think. I prefer to wait for the doctors before imposing a recovery time."

Lionel Messi scored twice on his return to the starting line-up as Barca ran out 6-0 winners on aggregate on Thursday, and Martino was thrilled to see his compatriot perform well in his first 90-minute outing for more than two months.

"We didn't give Getafe any chances to get back in the tie and Messi's goal determined the result. Leo showed he is fit enough for 90 minutes," he continued.

"He was away from the pitch for 60 days, we talk a lot about how he feels, but it was a matter of time until he could play 90 minutes because physically he felt good. He's done well and he looks ready."

Xavi made his 700th appearance as a substitute for the Blaugrana and Martino stressed the veteran midfielder should not consider playing for another club after reaching the milestone.

"I congratulated him, as everyone in the dressing room did. To play in 700 games is very difficult, even more so for Barcelona," he added.

"Like him, I think he wants to stay in football, and I want him to continue at Barca. Xavi should not retire in any other shirt but the one in which he played 700 games."