The contrast was so stark that Jose Mourinho was always going to find it difficult to side-step the question -- but he still tried his best.

On Friday, it was put rather bluntly to the Portuguese -- last season, Manchester United finished 14 points ahead of Chelsea; this season, they are nine points behind. It is quite a swing, so what's the reason?

It was, of course, an invitation to either criticise a club said to have overlooked him or an opportunity to appraise his own team. Mourinho, however, was never going to indulge.

"Football," he simply answered. "It happens in football. There are no two equal seasons."

• Worrall: A devil of a time
• Okwonga: Balancing act for David Moyes
• Top Tenner: Man United-Chelsea battles

In this case, it must be said, there are not two equal managers. The reality is really rather simple. United lost one of the greatest in history but it was Chelsea who appointed another one.

The rest is mostly just noise, but Mourinho was mostly unwilling to contribute. The Portuguese kept up his conspicuous stance of being as polite as possible about United and David Moyes; that the former Everton manager is definitely the right man for the job; that they'll definitely finish in the top four. He even backed Ferguson in the debate about the squad Moyes has been left with, but insisted the team have no issues.

"They must show me their garbage box. If United have an average squad, wow..."

There were only two moments when he offered a bit of a twist.

The first was when he subtly changed his account of knowing about Ferguson's retirement. In June, Mourinho said he had known "for months". On Friday, he said he only knew a few weeks before the announcement.

Although the Chelsea manager also derided the Spanish book claim that he cried when he didn't get the United job, the account did confuse the timeline surrounding Ferguson's replacement and -- at the very least -- raised more basic questions about how Mourinho would have performed in the role.

The second was the throw-away bombshell that he felt United would seek to sell Wayne Rooney to a foreign club in the summer, implying inside knowledge.

Both issues have predictably dominated the pantomime build-up to this fixture but, for once, they may also be relevant as regards who will dominate the match itself by the end.

Most obviously, there is the clash between the two managers.

While it remains very difficult to fairly judge Moyes at present given the unique context of Ferguson's retirement, it is even more difficult to argue a manager like Mourinho would not have had a superior effect.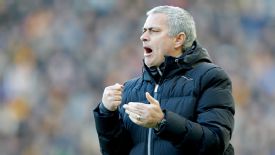 AllsportJose Mourinho's determination kept Chelsea on track despite an inconsistent start to the season.
For all his flaws, he is one of the few in world football with the presence to perfectly handle replacing Ferguson. That is largely because, exactly like the former United manager, he has a supreme capacity to keep any team at a competitive level. This season, that has kept Chelsea so close to the leaders, despite a series of miserly performances.

United, by contrast, have been so much more uncertain.

The key for this fixture, however, is that the home side have been capable of sufficiently bolstering that winning baseline in the biggest games. The majority of Chelsea's best and most commanding displays have come against direct rivals, not least the supreme first-half response in the 2-1 win over Liverpool.

While the 0-0 draw away to United was a notable exception, those around Cobham have spoken about how much has changed since then. At first, one Chelsea source said Mourinho was surprisingly slow to find his feet with a largely unfamiliar squad. Now, it is completely different. They speak of him being back to his most assured.

It is reflected in his demeanour, and the performances.

Most tellingly, Mourinho said he would approach that early stalemate differently.

"It's not about them. It's about us. In this moment, I feel my team is living a good moment, playing with some stability. The team is quite confident with the ball. Normally we are dominant and have possession of the game. It's an evolution in a certain direction. If the game was at Old Trafford now, I'd go in a different way. But that was the first away game of the season, at Old Trafford and important not to lose. In the end, a point was not a bad point. It's always a point."

The worry for United is that Mourinho could also have a specific point to target. If Chelsea can isolate and impede Michael Carrick with a three-man block, and then swarm in behind him through their attackers, this could get uncomfortable for United.

That would not be so much of an issue if Moyes had Rooney or Robin van Persie to give Chelsea a problem of their own to think about and thereby pin them back but, as it stands, United look a little too reliant on Adnan Januzaj and in a relatively predictable way.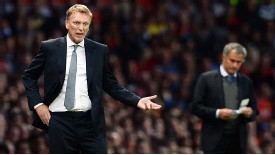 AllsportThe battle between the managers will be just one storyline when Manchester United meet Chelsea.
As it stands, unless Moyes can suddenly work out a way to have Januzaj and Danny Welbeck coalescing gloriously, it feels like United are going to have to muster the kind of resilience displayed against Arsenal in November.

For his part, that defiance was one of Moyes' finest qualities at Everton. Mourinho similarly acknowledged that, just when everything about a game seems to be tilting in a certain direction, football can find that fascinating way to divert things.

"I'm in the game for too long. I've played dozens of derbies and classic matches, matches between the big teams, and this is what experience says. More than that, many times on many occasions, the team that looks to be in the most difficult situation is the team that appears stronger in that match. That's why I consider this game especially dangerous for us."

Whatever about side-steps, victory will ensure one team make a significant step forward and the other a considerable one back.